:

Farm Fresh Produce, Local and Regional

:

Grows in the Ground

: Zucchini Flowers
---




View: MAP
View Profile
Add to Itinerary
View Itinerary
Starts at 8am and finishes 12 noon. See the attached document below for market dates.
Runs the Second Saturday and Fourth Saturday of Every Month, except January.

This is a seasonal market and the produce advertised will only be available in season.

The Hawkesbury Harvest Farmers' and Fine Food Markets are just what the doctor ordered. An abundance of fresh produce to tempt the taste buds of most hunters and gathers.

Let's begin our journey by succumbing to the tantalizing aroma of freshly ground coffee beans brewing away in the crispy early morning air of the showgrounds. As you sip your coffee you will drawn by the perfumes of the many freshly cut blooms as the flower stalls arrange a vast array of colours and species to suit all occasions.

As you do the rounds it's hard not to be drawn to the amazing variety of fresh herbs and spices available. The crispy baby rockets, extra virgin olive oils, sun dried tomatoes and amazing array of olives and fresh basil.

Willowbrae cheesemaker Karen Borg uses a traditional French farmhouse method to produce a variety of goats cheese sold at the markets by her husband David.

Crunchy sourdough breads, traditional pasta's even the staple family meals like bangers and mash can be accommodated.

The fantastic array of gourmet European sausages and the variety of old fashioned Irish spuds will turn a staple Aussie meal into a Chef's delight !

Enjoy browsing through the stalls of fresh fruit and veges, freshly picked berries, crunchy greens, vine ripened tomatoes, stone fruit and our famous Bilpin apples - even an apple pie or two !

Our markets promote the importance of fresh seasonal produce, sustainable local agriculture, showcasing small business and introduce our many visitors to the wonders of our Region, The Hawkesbury.
---




View: MAP
View Profile
Add to Itinerary
View Itinerary
The Fruit Bowl is open 7 days a week from 8.00 am till 5.00pm. Closed Christmas Day.
Beautiful, crisp Royal Gala Apples, Red Delicious till end of March. Pink Lady apples ready end of March. We also offer pyo vegetables. Click FB link for more information for weekly updates of what is available for picking each weekend.
The Bilpin Fruit Bowl is owned and operated by Simon & Margaret Tadrosse.

It has been owned by the Tadrosse family since 1985. We have 4 children, 3 daughters and one son, who were all born into the business and now with all their help we all manage both the orchard and the shop. We now also have one of our grandchildren (11 year old) helping out on the farm regularly. If you visit you will probably see him driving around on one of the tractors, buggies or bikes, or helping out at Pick your own.

Our daughters help control and run the shop full time, they make all the apple pies, cakes, slices, scones. All the baked goods are all made from scratch in our shop. Nothing is bought in pre-made. Our apple pies are one of the best pies you will find anywhere. We are very proud of how huge our reputation is for how fantastic and delicious our apple pies are.

The Fruit Bowl shop is open 7 days a week from 8.00 am till 5.00pm.
The farm is open on weekends and public holidays only between 10am and 4pm. We open mid November and go though until about end of May (depending of fruit availability).

We only close on Christmas Day. In our shop we stock local honey, local home made jams, souvenirs, pottery, fresh fruit and seasonal summer fruits. We bake all our Apple Pies, cakes and slices on the premises.

In Summer we also sell Peach pies made from peaches grown in our orchard. When other fruits are in season such as cherries, blueberries and raspberries you can also be tantalised with one of these fresh baked pies.

The shop has:-
* Undercover seating for 250 people
* Ample off road car parking
* Picnic grounds
* Playground equipment for children
* Toilets
* Disabled toilet

Our Orchards consists of approx in excess of 15,000 fruit trees. 5,000 Stone Fruit (peaches, plums, nectarine and apricot), 5,000 Apple trees (royal gala, red delicious, pink lady braeburn, granny smith), 3,500 cherry trees, 1,500 fig trees, 1,500 persimmon trees, 150 olive trees, 150 almond trees

As well as pick your own peaches, plums, apricots, nectarines, cherries and apples, we also offer Pick your own vegetables. We are the only farm in NSW currently offering PYO vegetables. Please see our weekly updates on our Facebook for what is available each week for picking.

---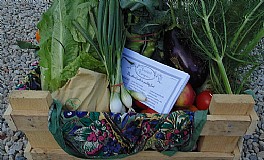 View: MAP
View Profile
Next tour 5th of June.
Become part of our CSA family. Your funding will allow our farm to provide nutrient-dense, ethically-grown food for our community. Your membership means you will be able to pick up fresh produce every fortnight from one of our pickup points around the Blue Mountains, Hawkesbury and Parramatta areas.
---