:

Farm Fresh Produce, Local and Regional

:

Grows in the Ground

: Waratahs
---

View: MAP
View Profile
Add to Itinerary
View Itinerary
Please call us!
You can find us at these markets, or call us to make other arrangements.
Peats Ridge Country Markets - Saturday 10 June 2017, from 9am – 2pm | Berowra Community Markets (4-6 Alan Road) - 8am – 1pm
Swansea market - Quinnn Park Markets - Swansea - 8.00 am -1pm (every 4th Saturday of the month)

Sustainable Natives is a wholesale nursery located in Somersby, NSW on the central coast.
We specialise in tube stock to semi advanced plants, mainly native plants including finger limes, waratahs, banksias, grevilleas, grasses, and groundcovers.

If you are interested in starting up a native Australian Garden, or would like to purchase plants, give us a call!

Sustainable Natives is a member of the NGINA (Nursery & Garden Industry, NSW & ACT Ltd)  and AILDM (Australian Institute of Landscape Designers and Managers) and Olga Blacha is a registered Landscape Architect with AILA - Australian Institute of Landscape Architects and can provide landscape plans for DA or for redevelopment work.
---




View: MAP
View Profile
Add to Itinerary
View Itinerary
Open every Friday, Saturday, Sunday and Monday, 10am - 4pm. For sales call 0417 042 460
Wildwood is a garden in Bilpin which has been developing for more than 30 years due to the efforts & skills of Wayne & Sue Tapping who bought the land in the early eighties.

They chose the name Wildwood as their plan was to make a formal garden without losing the wildness of the native landscape. They have decided that the property has now got to the stage that it should be available for everyone to appreciate.

Situated in the heart of Bilpin amid the orchards & tall trees of the Blue Mountains it is a large garden many would love to explore.

It is not just a place to wander in and enjoy the plantings as it has a café with fabulous views, a gift shop & specialist nursery with treasures propogated from plants in the garden.

There is a cherry walk, dogwoods & other blossom trees, camellias, azaleas, massed clivia, & hellebore, hydrangea, deciduous trees that are spectacular in autumn & ferns that surround a magnificent waterfall with ponds.

There is also a large lake surrounded by lawns & topiary where you can picnic. It has sweeping views, deep volcanic soil, bore water & is a delightful place to visit at any time of year.

They began this garden more than 30 years ago & also opened a retail nursery at nearby North Richmond. The Nursery closed in 2010, allowing the couple to pursue their dream of an open garden with gift shop, nursery & café.

This 5 hectare garden nestles among 10ha of towering native trees. It is set on a gentle slope with broad, crushed granite paths that meander beside a waterfall & ponds then beneath the trees & across sweeping lawns to a tranquil lake. Seats are scattered throughout to encourage visitors to relax & enjoy the atmosphere.

Wildwood's café serve morning & afternoon teas, snacks & light lunches with delicious sandwiches, salads, cakes, pastries & season specials. There is a selection of homemade goodies which are scrumptious but be sure not to miss out on the Wildwood's very own homemade apple pie – it is just so delicious. Enjoy a panoramic view over the garden from the café verandah. Visitors are also welcome to picnic by the lake.

The Gift shop and nursery is well stocked with appealing gift ware & local products. The nursery has a range of plants, many of which are propagated from those which are growing in the garden including some rare & unusual finds. You are sure to find something special here


From an Article by Jennifer Stackhouse, Wildwood Open

---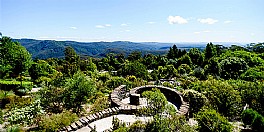 View: MAP
View Profile
Add to Itinerary
View Itinerary
The Blue Mountains Botanic Garden is open every day except Christmas Day.
Monday - Friday: 9.00 am - 5.30 pm
Saturday, Sunday and public holidays: 9.30 am - 5.30 pm
Entry is free
No pets allowed in the Garden
Enquiries 02 4567 3000
The Blue Mountains Botanic Garden sits on 252 hectares of land with 28 hectares open to the public. Located in a World Heritage area the Garden is a living laboratory providing vital science focused on the conservation of cool climate plants.

The Garden is a great place for you to relax, breathe in the clean mountain air and discover a world of cool climate plants at your leisure. You are invited to return again and again to witness the fresh spectacle that each seasons brings.

The Garden features The Potager cafe and The Jungle Lodge which sleeps up to 10 people, has a wood fireplace, and private entry to the garden.

---