:

Farm Fresh Produce, Local and Regional

: Provedore
---




View: MAP
View Profile
Add to Itinerary
View Itinerary
Retail open Wednesday to Sunday, 10.00am to 3.00pm.
Cafe open Saturday and Sunday, 9am to 5pm.
THIS IS NOT A PICK YOUR OWN FARM


This is NOT a Pick Your Own Farm, but we do have great local and regional fruit that comes direct from the Farms.
Former packing shed that's now a retail space, cafe and bar producing and selling jams, chutneys and other fine local fare.

Cafe is now open every Friday, Saturday and Sunday. Selling rustic, quality homemade food using locally sourced ingredients. BYO welcome.

THIS IS NOT A PICK YOUR OWN FARM



---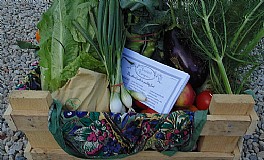 View: MAP
View Profile
Next tour 5th of June.
Become part of our CSA family. Your funding will allow our farm to provide nutrient-dense, ethically-grown food for our community. Your membership means you will be able to pick up fresh produce every fortnight from one of our pickup points around the Blue Mountains, Hawkesbury and Parramatta areas.
---
---