:

Farm Fresh Produce, Local and Regional

: Lemons
---

View: MAP
View Profile
Add to Itinerary
View Itinerary
By appointment only
Kathleen Groves Farm was established in the 1930's by the Floyd family. William and Kathleen Floyd were the first generation to farm the land, mainly with citrus crops – oranges, lemons, limes and mandarins etc. The farm is now owned and operated by the third generation of Floyds and it mainly produces eureka lemons which are sold to Sydney markets and local retailers.

Kathleen Groves Farm is now opening to the public for the first time in its rich 90 year history. We look forward to greeting you at the farm gate!!
---




View: MAP
View Profile
Add to Itinerary
View Itinerary
Starts at 8am and finishes 12 noon. See the attached document below for market dates.
Runs the Second Saturday and Fourth Saturday of Every Month, except January.

This is a seasonal market and the produce advertised will only be available in season.

The Hawkesbury Harvest Farmers' and Fine Food Markets are just what the doctor ordered. An abundance of fresh produce to tempt the taste buds of most hunters and gathers.

Let's begin our journey by succumbing to the tantalizing aroma of freshly ground coffee beans brewing away in the crispy early morning air of the showgrounds. As you sip your coffee you will drawn by the perfumes of the many freshly cut blooms as the flower stalls arrange a vast array of colours and species to suit all occasions.

As you do the rounds it's hard not to be drawn to the amazing variety of fresh herbs and spices available. The crispy baby rockets, extra virgin olive oils, sun dried tomatoes and amazing array of olives and fresh basil.

Willowbrae cheesemaker Karen Borg uses a traditional French farmhouse method to produce a variety of goats cheese sold at the markets by her husband David.

Crunchy sourdough breads, traditional pasta's even the staple family meals like bangers and mash can be accommodated.

The fantastic array of gourmet European sausages and the variety of old fashioned Irish spuds will turn a staple Aussie meal into a Chef's delight !

Enjoy browsing through the stalls of fresh fruit and veges, freshly picked berries, crunchy greens, vine ripened tomatoes, stone fruit and our famous Bilpin apples - even an apple pie or two !

Our markets promote the importance of fresh seasonal produce, sustainable local agriculture, showcasing small business and introduce our many visitors to the wonders of our Region, The Hawkesbury.
---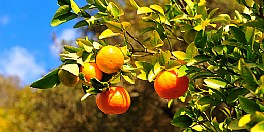 View: MAP
View Profile
Add to Itinerary
View Itinerary
Weekends by BOOKINGS ONLY. You can book through our website.
Saturday 26 and Sun 27 Jun - Open 10am to 2pm
School Holidays Mon 28 Jun & Fri 2 Jul - Open 10am
Ford's Farm is a Pick Your Own citrus orchard specialising in Mandarins. Our first mandarin of the season is the Satsuma, a seedless variety, easy to peel, full of juice and very popular with children. This year we have a reasonable crop of both Satsumas and Imperials, but you will notice some mud on the bottom of the trees as we were impacted by the recent flood. It does not detract from the taste or quality.

Ford's Farm is nestled on the banks of the Hawkesbury River, 15 minutes from Wiseman's Ferry. The citrus orchard was established over 50 years ago by the Ford family (some original trees still produce fruit – the Emperor Mandarins). It has been a Pick Your Own orchard for over 18 years and has developed with help from our customers.

We look forward to welcoming visitors in June each year to pick mandarins, oranges, lemons, limes. We close once all mandarins have been picked and re-open in July for cumquats. Unfortunately we cannot allow any picnics in the orchard this year.

Visit our "shed" for jams, chutney, cordial and honey all from produce grown on the farm. The honey is different every year as the bees forage on whatever is available at the time. It is pure with no additives in the honey.

BOOKINGS ARE ESSENTIAL - we have done this as Singleton Road is not suitable for the amount of traffic visiting the area and we are trying to reduce the number of cars on the road for safety reasons.

PLEASE NOTE: We are registered for "Covid19 Safe Practices" and you will be asked to follow the regulations by signing in and also follow social distancing rules. All visitors must book online on our website and follow the social distancing regulations. If you have not booked or are ill you will not be allowed to enter, walk-ins are also not allowed.

---